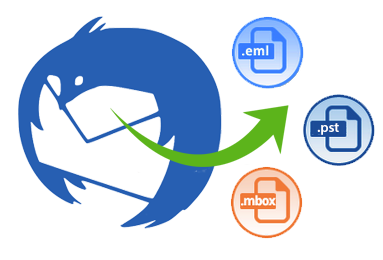 CataSoftware


Thunderbird Converter
Get effortless Thunderbird Conversion @ CataSoftware
Powerful Thunderbird Converter tool with batch function
Convert & save Thunderbird emails in PST, EML, MBOX format.
Checkout What Thunderbird Converter can do...
Thunderbird to EML
It is useful for converting Thunderbird emails onto Windows Mail, Windows Live Mail, Outlook Express, eM Client, Postbox, Pocomail, The Bat etc.
Thunderbird to PST
It is useful for converting Thunderbird emails to Microosft Outlook 2013 (32-bit & 64-bit), 2010 (32-bit & 64-bit), 2007, 2003, XP.
Thunderbird to MBOX
It is useful for converting Thunderbird emails to mac mail, apple mail, entourage, postbox, seamonkey, spicebird, eudora etc.
Features List of Thunderbird Converter

Smoothly convert all Thunderbird emails
It is a excellect conversion tool to convert, export, import Thunderbird emails to most popular email fomats like - EML, PST, MBOX..

Convert Thunderbird Attachment files
The Thunderbird Converter enables to convert Thunderbird attachment data into other emails application.

Convert & Export entire data conversion with emails
The Program elegantly maintain the emails Metadata, HTML Layout, Images, etc.

Batch Conversion Approach for Thunderbird emails conversion
The Program supports Bulk or Batch Approach for unlimited Thunderbird conversion at once.

Keeps exact formatting of Thunderbird emails
CataSoftware Thunderbird Converter Utility has the ability to keep exact formatting of each emails emails during conversion to othe format.

Supported Only Windows Operating System
CataSoftware Thunderbird Conversion Utility has the compatibility only for Windows based platform for instance – Windows 10, Windows 8, Windows 7, Windows Vista, Windows XP, etc.
See How CataSoftware Thunderbird Converter Looks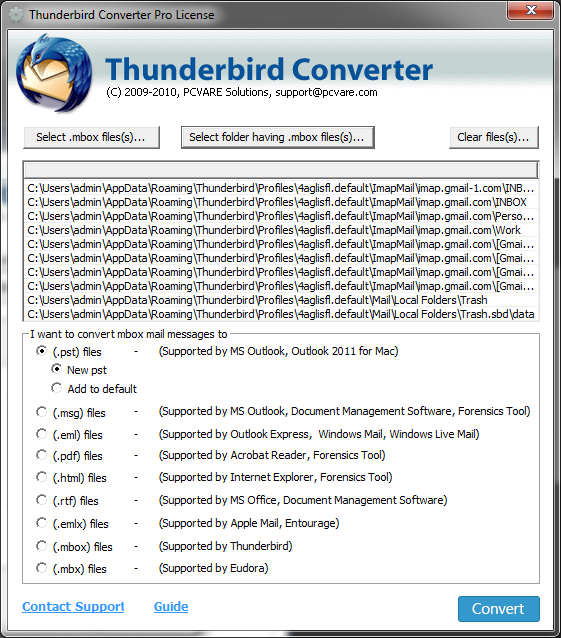 Working of Thunderbird Converter
Step 1 - Locate your Thunderbird Files
— For your Thunderbird emails migration process, first choose Thunderbird emails or orphan Thunderbird emails and the tool will provide you with the two options:
Choose a folder .mbox files(s): This option will provide a batch mode & if you will chose this option, then this option will auto-detect and will take you to Thunderbird profiles and you should then click on OK, all Thunderbird emails would get open. This method will save a lot of time and is fast.
Select .mbox files(s) : In this option user can select one file at a time. Now users have to search manually go to the location of your Thunderbird files and choose individual files. If you are selecting an individual file with the help of this option then you have to select [*.*] this option or if you are having orphan files, you can choose [*.mbox].
Step 2 - Select Saving File Options
— When the software has auto-detected all of your Thunderbird files, the next step is the tool provides users with 9 conversion options such as PDF, MSG, RTF, MBOX, EMLX, MBX, HTML, EML, PST. Select the desired file format and click on the convert.
Step 3 – Choose Saving Location
— Now users have to choose saving location of all your files, if you want to convert. After choosing the saving path, select any file naming option to save your files and click on OK button to start the conversion.
Step 4 - Complete the Conversion Process
— The tool will start with conversion process and when the process is completed, a new pop-up window will appear which will show successful conversion.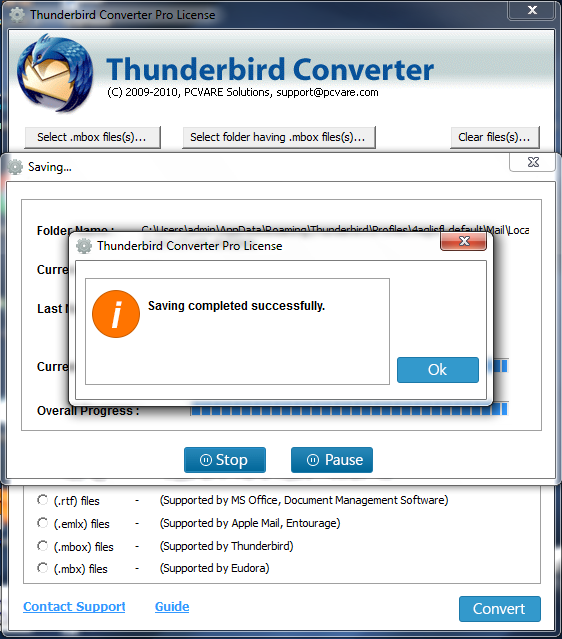 Learn More...
It is true that Thunderbird is an effective email application, yet it doesn't provide any facility for converting its emails. But todays, stuck up in several circumstances, often an company, organization or users tend to regard converting their Thunderbird messages into some other email application.
To counteract situation like this from becoming even graver, CataSoftware has launched the Thunderbird Converter Software that is an excellent conversion tool to convert, import & export Thunderbird emails data. This Thunderbird Conversion Program would be capable to create uncomplicated & swift environment to export Thunderbird files.
Go for the easiest & fastest conversion of Thunderbird email files, with Thunderbird Converter Program.
FREQUENTLY ASKED QUESTIONS
HAVE QUERIES ?
Choose MBOX file as your saving option during conversion. It will just convert Thunderbird emails to MBOX format. After this you can easily move & import MBOX files into MAc Mail.
Choose PST as your saving option to convert Thunderbird emails to Microsoft Outlook, PST is the default format of Microsoft Outlook.
Yes, Thunderbird to Outlook conversion is possible in Batch using batch mode.